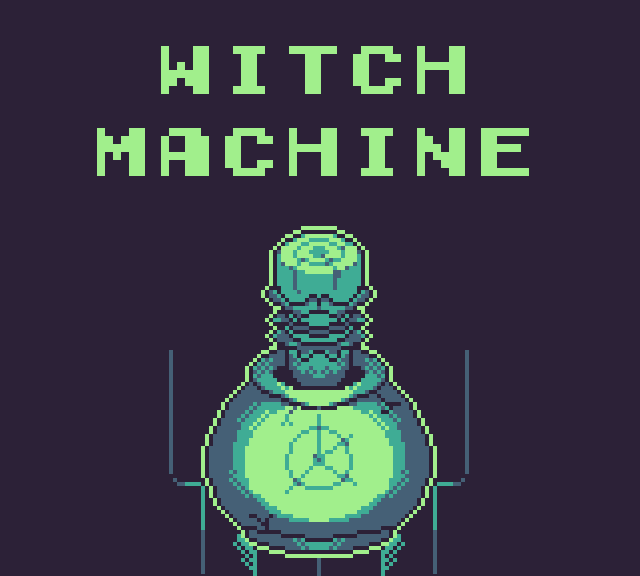 witch machine
A downloadable game for Windows
Planned for release in October 1996, Witch Machine was an experiment in pushing the boundaries of what could be done on the Nintendo Game Boy.
Concerns from investors over the project's viability and rumors of mismanagement by team leaders made development uniquely troubled... that is, until word of "troubling content" began to circulate months before launch, spelling the end for the game and the company behind it.
Higher ups at GodHead Interactive pulled the plug on the project weeks after the rumors surfaced and, facing bankruptcy, closed their doors on June 6, 1996.
The final build of the game never made it to release, and the few test cartridges auctioned off during the company's liquidation became relics, finding homes in private collections, unable to be played in their corrupted state.
Last year, the Video Memories Project was gifted a GodHead dev kit, found by a fan in an old storage unit who hoped they could salvage its contents. The patch contained within, when applied to a development cartridge, returned the game to a playable state.
Now, nearly 25 years after its cancellation, the world is able to experience what could have easily been a piece of gaming obscura, lost to the ages.
Please enjoy Witch Machine, a rediscovered piece of horror game history.
---
a submission for GBJAM 7.
default keybindings:
- Z ("A"): cursor function
- X ("B"): walk
- C ("Select"): item menu
known issues:
- game sometimes hardlocks when opening the item menu. leaving an inventory sprite on the screen in the lower left, while unable to move the cursor. if you encounter this one PLEASE tell me the sequence of events - replicating it intentionally is tough!
contributors:
(alphabetical)
- gilmore girls expert: austinbrook (@austindotorg)
- music: max knightley (@maxknightly)
- heavy lifter: victoria lacroix (@arachonteur)
- junior gilmore girls expert: gwen lawson (@reziarts)
- flavor text writing: mabel mabel (@rintezukas)
- fake ad copy editing: blues (@blues_turn_gold)
- animation cleanup + bug testing: jane underscore (@janederscore)
friends who requested credits but are not actually contributors:
- "nemesis": tomomo
- "adorable friend who did not work on this project": leaf doggy
- special thanks to an unnamed friend for emotional support
Download
Click download now to get access to the following files:
WITCH MACHINE (Windows)
7 MB
WITCH MACHINE (LOVE)
4 MB
Comments
Log in with itch.io to leave a comment.
If you play long enough, your item menu stops working.
Is Mac supported? I get this error when I try to run it

Error
lib/patchy.lua:344: attempt to call method 'getData' (a nil value)
Traceback
lib/patchy.lua:344: in function 'load'
game/init.lua:193: in function 'load'
main.lua:52: in function 'load'
[C]: in function 'xpcall'
[C]: in function 'xpcall'


yup! you need to use an older version of love2d though - this was built using 0.10.2.
Wait, is that story really true?
Consider me confused, like, did I get the ending? ;o
I found this game quite charming on how you used Game Boy graphics to tell both a story and horror. I just wish that since it is a "glitched" game as I would like to call it, I wish it would mess with the player after the ending.
Just my two cents on that. But here's my channel for other games I have played. http://www.youtube.com/c/Levont